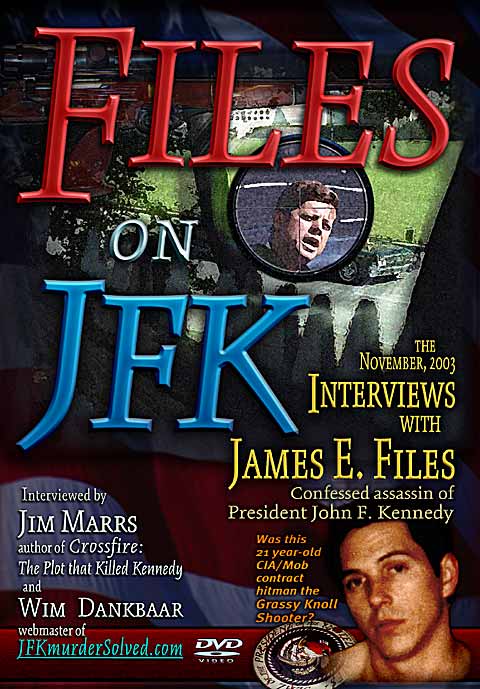 Being (as you friends will know) a big armchair investigator of various mysteries, I finally broke down and spent some hard-earned Amazon credit on a big fat book,
Files on JFK
.
Just like an "I love you" note from your kid that's all misspelled and smeared with dirt or peanut butter, the message is more important than the presentation.
THIS BOOK NEEDED A COPY EDITOR!
I mean, words are misspelled, the name of Russian premier Khrushchev is spelled "Kroetschov," big blocks of text within emails or letters are printed again after appearing once earlier in the book.
Nevertheless, I can believe that the story in this book MIGHT be the truth.
The big picture is that the JFK assassination originated in elements of CIA and organized crime. The familiar names are named -- David Atlee Philips, Rosetti, Nicoletti, Giancana, George HW Bush, etc the like -- but with insight from James Files aka James Sutton aka a lot more names.
You see, in November 1963 Files was a 21-year-old ex-military guy who had become not only the driver and go-to guy for a Mafia hit man, but also a CIA asset. When CIA and other US intelligence agency members began to percolate angrily over their being "choked off" during the Bay of Pigs aborted invasion, along with other perceived failings in JFK's behavior or character, they decided to do something about it.
So they got together with some of their hand-in-hand friends in the Mafia and did it. This was NOT an agency thing, this was a few guys using their connections. Probably some other acquaintances were drafted in after the fact, presented with the most drastic
fait accompli
that I, anyway, could imagine.
By this I mean that members of the FBI and the Secret Service also participated in the hiding of evidence, forgeries, and lies. It was the Secret Service that switched the windshields on the "Assassination Lincoln." It was J Edgar Hoover himself who stressed repeatedly on November 22nd (and forever after) how important it was that the country and the world believe that Oswald alone was the patsy -- oops, I mean believe that he was the assassin.
At any rate, this is a long and rambling lead-up to the especiality of THIS book.
And in this book, James Files tells a very credible story of being the (semi-reluctant) shooter on the grassy knoll, behind the picket fence.
In my opinion the single most convincing part of Files's tale refers to the cartridge from the bullet he fired into JFK's right temple. Files says that after firing the head shot, he removed the .222 cartridge and bit it.
Well, in 1987 a guy and his son found a .222 cartridge down a ways in front of the wooden stockade in Dealey Plaza. After Files's story was told in 2004 or 2005, investigators went back to look at that cartridge. After examination from at least one dentist, the indentations previously thought to be "just dents" were found, in fact, to be human teethmarks.
Sounds pretty authoritative to me.
Let me know what YOU think.